Scott's Cookie Recipes
Scott's Famous Chocolate Chip Cookies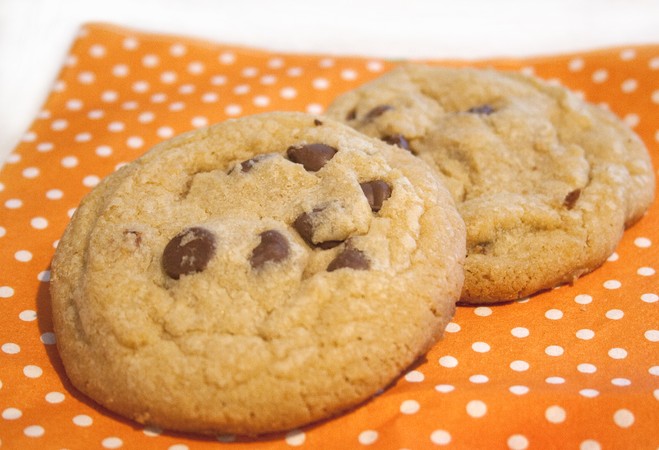 3 C flour
      1 1/3 C butter flavor
      shortening                      
      1 C sugar                                 
      1 C brown sugar  
      1 t soda                      
      1 t salt
      2 t real vanilla                             
      1 C  walnuts (chopped)   
      2 eggs
      12 oz large milk choc. chips *   
 
Mix shortening, sugars, vanilla and egg together.  
Sift flour, soda & salt together, then add to shortening
mixture.  Stir in the chips and nuts.  

Bake at 375 for 8-10 minutes. (These cookies are
best baked in a convection oven at 340 for 9 min.)
DO NOT OVERBAKE!
Makes about 3 dozen cookies.
** Use Guittard or Ghiradelli large choc chips.
---
Scott's Graham Cracker Toffee Cookies
1/2 to 3/4 cup walnuts or almonds
Get out two cookie sheets - the kind that has about a 1/2" raised lip around the edge. On each cookie sheet, spread out about 12-14 Honey Maid graham cracker cookies.  (Don't cheap out and buy the generic brand)
Chop nuts into small pieces and set aside. 
In a saucepan, melt one cup of butter (two cubes).  Gradually dissolve the brown sugar into the butter as you bring the toffee mixture to a low boil.  Keep in mind that if you make your toffee on a rainy day, the mixture will come out with a grainy texture.  Stir the mixture constantly on low boil for 5 minutes.  Pour 1/2 of the toffee onto the graham cracker cookies and smooth out with a spatula.  Sprinkle nuts over the toffee.
Bake the graham cracker toffee cookies in a conventional oven at 225 - 250 degrees for 12 - 14 minutes.  Let cool for about 5 minutes.  Serve with copious amounts of ice cold milk.